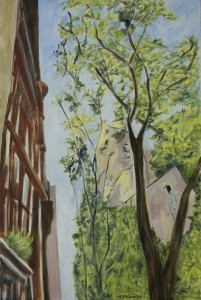 I have been  consumed painting, painting and painting at an intense clip! My city-scapes now include more people and unique situations: the street life of mid-town and the flood of ongoing new super tall tower construction as experienced from the street, as a pedestrian.
Three pieces were recently included  in the exhibit at The Drawing Center in Chelsea, NYC. This was a benefit exhibit for Art-In-a-Box which brings partners with educators, and provides art materials to teachers in Cambodia who work with at-risk children. The purpose is to help the children have a creative outlet and explore self expression.
Another painting was recently on exhibit at the Phyllis Harriman Mason Gallery of The Art Students League on West 57th Street, NYC, as part of  their wonderful Holiday Show. The Holiday Show is great fum. The paintings are hung salon style, floor to ceiling, and cover  the walls completely. Everything is for sale. Buyers choose their painting and walk out with it the same day. The artist can hang another painting in  the same spot until the end of the show. Opening morning the gallery is packed with buyers. Pretty awesome!