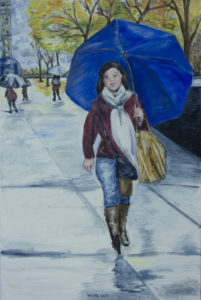 City Views is a juried group show at the President of the Borough of Manhattan office at 1 Centre Street in New York City. "Blue Umbrella", my 24″ x 36″ acrylic on canvas was chosen for inclusion in this group show, which is an honor I truly appreciate. The exhibit runs from August 3, 2017 through August 31st.
It is truly a lovely show, the selected paintings demonstrate the very personal way 80 artists from a wide variety of backgrounds and points of view, experience our complex city.
I know it"s August, but try to get there—you will enjoy the show!